Smart Stay is one of the cool features of Samsung Galaxy S III Android phone. This feature answers one common annoyance of smartphone. Smart Stay prevents Galaxy S III's screen from going off when you are browsing the internet or reading something on the phone. Other times it act as normal and saves the battery life.
Of course, you can extend the screen timeout of any phone from its settings, but it will keep the screen active all the time and drain your battery. Smart Stay meets both the world by avoiding screen timeout when doing something on the phone and turning off the screen when it is in idle automatically.
Would you like to bring this cool Smart Stay feature to your non Galaxy S III Android phone? A free app called Smart Stay Ex gives Samsung Galaxy S3's Smart Stay feature to your android device. However, it will not work with all phones. Check here to know whether your phone support this app.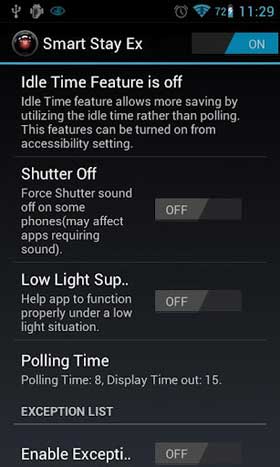 The feature uses the front facing camera of your device to detect whether the user is looking at the phone and if the user is, then Smart Stay makes sure the phone screen stays on so the user can continue to read or do whatever they were doing. If not, it will shut the screen off.
It thus more accurately controls the screen based on how the user is using it and you can get rid of the annoying action of having to turn on the screen or touch the screen so that your screen stays on.
You can install Smart Stay Ex from
Google Play Store
.