It happens at times, when one need to share WiFi Internet connection across multiple devices. It could be another laptop, tablet or a mobile device. To easily share WiFi Internet connection, a WiFi Hotspot should be in place. The WiFi Hotspot helps enabling the Internet connection sharing. That in turn let other devices get connected to the WiFi Hotspot with or without a WiFi access password.
Instead of making changes in your current network settings or creating an adhoc network in Windows, one can easily share WiFi Internet connection with a third party WiFi Hotspot software. One such software that I personally use and recommend is mHotspot. It works amazingly well with no-non sense features. So, in this tutorial, we will show you steps to easily share WiFi Internet connection without changing any network settings with mHotspot. Let's see how it works:
Steps to share a WiFi Internet connection in Windows with mHotspot
1. Download mHotspot from
here
. Its available for Windows 8, Windows 7 and Android as well. Choose and download it for your respective operating system.
2. Install it with proprietary download.com installer.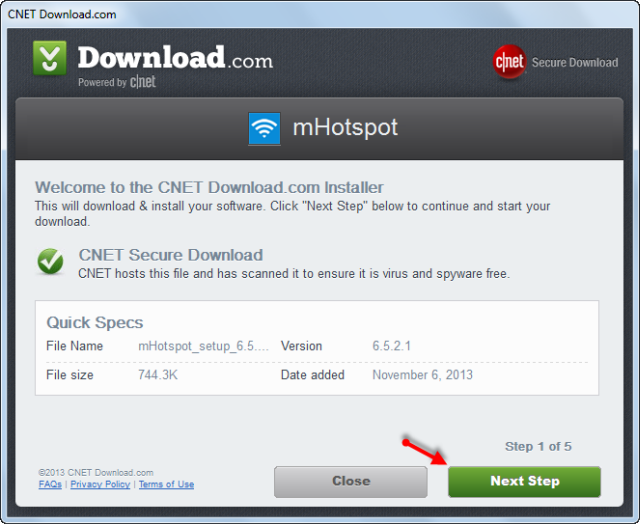 3. Once installed, launch the software.
4. mHotspot homescreen comes up, in this window, add the following: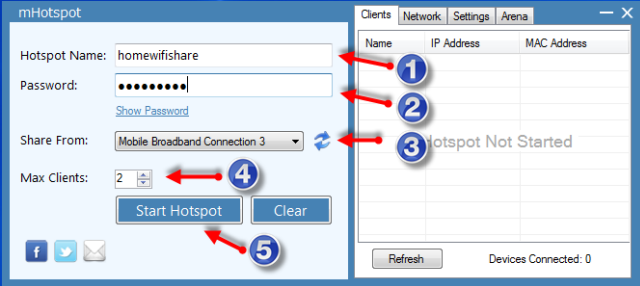 Hotspot name: Any name you desire and find easy can be added.
Password: Create a password.
Share From: From the drop down menu, select the Internet connection you want to be shared with other devices.
Max clients: You can maximum add up to 10 devices. Once completed with these requisites, click "Start Hotspot".
5. Enable Wi-Fi connection on your devices, search for a WiFi network, click on the Hotspot name, enter the password and done! You are connected to the Internet. Congratulations. The connected clients (devices) can be seen with their IP and Mac addresses.
Configuration
mHotspot, being a free software, does not offer lot many customization options. But, you could monitor the data usage and choose to run the program at system start up.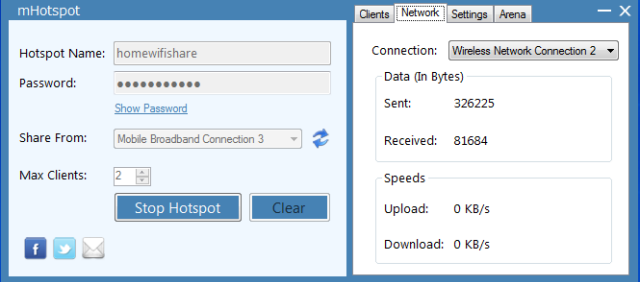 mHotspot is a free software and does the job perfectly. Its ideal for a home or a small network (upto 10 pc's). So, if you are looking to share WiFi Internet connection without much of a trouble, mHotspot does the trick for you. Happy sharing! :-)